Practice OpportUnity '21
In association with the Ontario Chiropractic Association
We are going VIRTUAL! Join us Wednesday, February 17, 2021!
Each year, we bring together over 500 CMCC students, faculty, chiropractors, and industry vendors. This year, we are excited to bring the conference to an even wider audience as we go virtual! Practice OpportUnity is an ideal venue to a valuable demographic of the next generation of chiropractors. Those in attendance include 200 students from the Year IV Class, graduating in June 2021.
Please visit our virtual landing page for more information:
VIRTUAL LANDING PAGE!
____
____
CLICK HERE FOR A LIST OF ALL PARTICIPANTS!
The deadline for registration is Wednesday, February 10, 2021. Unfortunately, we cannot make exceptions, due to the requirements of the virtual platform.
Please note: CMCC students and employees will receive a private registration link via an email. In order to attend the virtual event, you MUST register.
Some of the many virtual event benefits:
The safety of your own home or office
Real time interaction with students, vendors, and chiropractors
Saving on travel and time away from your clinic or office
Live chat through messaging and video conferencing
Continued access to your profile following live event for 90 days
Customizable booths
Networking! It has never been easier, just click and meet
Virtual Booth comparisons between registration and sponsorship categories: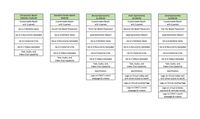 (click to enlarge)
*Attendance Only - You will not be able to talk with students about your practice opportunities.
This will only allow you to talk to vendors and chiropractors who have a booth.

Sponsorships
CMCC is a not-for-profit, charitable organization that receives no direct government funding and relies on events such as Practice OpportUnity for support. All sponsors will be issued a business receipt in accordance with Canada Revenue Agency regulations.
VIRTUAL LANDING PAGE!
____
Thank you to our current sponsors:
Title Sponsor

Keynote Speaker Sponsor

Silver Sponsor

Bronze Sponsor