Tuition & Fees
CMCC Funding Structure
CMCC is a not for profit organization and a registered charity under the Income Tax Act (Canada), which receives no direct government funding. The chiropractic profession continues to support CMCC through members who pay an annual fee, which helps to subsidize the cost of the students' education. Additional sources of funding are actively sought including the generous support of donors. CMCC students are eligible to apply for government financial aid, a process for which assistance is available from the Financial Aid office.
Students' Council Fee
On behalf of the CMCC Students' Council, CMCC collects $190 from each student upon registration to fund the cost of Students' Council social events, athletic programs (including the weight room, gym equipment and intramural sports), orientation, CMCC clubs, and participation in other student activities.
CMCC Chapter of the Student Canadian Chiropractic Association (SCCA)
On behalf of the CMCC Chapter of the SCCA, CMCC collects $25 from each student upon registration. The CMCC Chapter of the Student Canadian Chiropractic Association (SCCA) is committed to ensuring Canadian chiropractic students transition successfully from chiropractic college to practice in Canada by forging a strong relationship with the Canadian Chiropractic Association (CCA) and providing students with information and resources to plan for their transition into practice.
Student Insurance for Canadian Students
All full-time Canadian students are charged a fee for the Students' Council Health & Dental Plan. The plan provides coverage for 12 months, from September 1 through August 31. If a student is already covered by an equivalent extended health and dental plan, they are still required to pay the student health insurance plan fee to CMCC. They may, however opt out of the Students' Council Health & Dental Plan online, during the Change of Coverage Period, and receive a refund of the student health insurance plan fee directly from the insurance company. The plan also provides the option to enroll a spouse and/or dependants at additional cost.
For more information, call 1 877 795 4422 or visit www.studentcare.ca
International Student Insurance
For International Student Insurance please visit www.cihip.ca/coverage
International students are required to carry health insurance arranged through CMCC and the Students' Council. This insurance is mandatory unless the student is able to provide evidence of coverage under a Canadian provincial health plan, and an equivalent extended health plan. These plans provide a 12 month coverage for their designated coverage period. More information about student health insurance is available by contacting Student Services
2021-2022 Tuition Payment Due Dates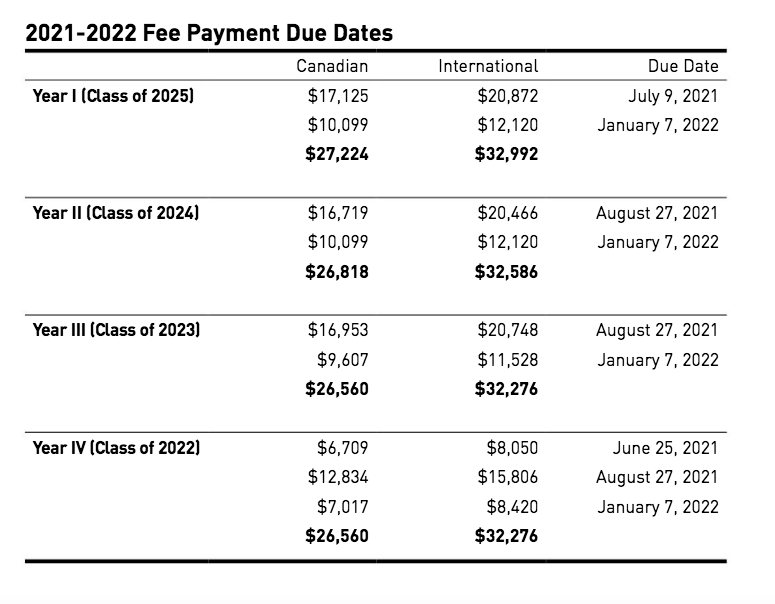 Other Fees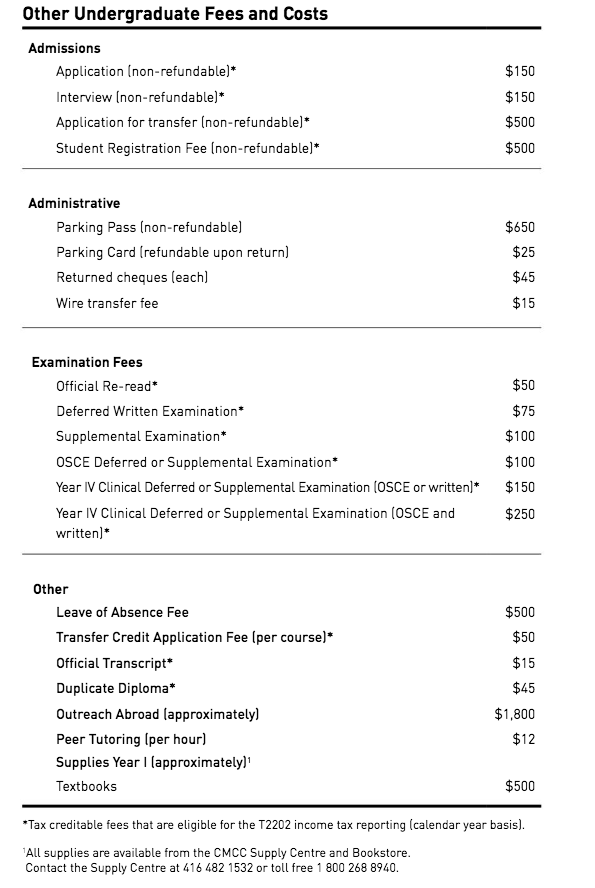 Financial Obligations
Students are responsible for paying their CMCC fees by the stated due dates. CMCC cannot be held responsible for any loan payments that arrive after the tuition due date. Interest charges related to any delays in the processing and advancing of any student loan proceeds to CMCC are the responsibility of the student.
Late Payment
An interest charge will be applied to all overdue balances at the end of the business day every Friday, of 12% per annum compounded weekly. The interest rate charged is subject to change without notice.
Students with outstanding balances could be subject to the following sanctions until full payment is made to CMCC:
withholding of grades, denial of access to class or clinic treating privileges, denial of examination writing privileges, termination of library services, and/ or de-registration.
Students will not receive their final grades or transcripts, will not be promoted to the next year, nor be permitted to graduate until all financial obligations to CMCC have been met.
Provincial and state regulatory boards may be notified of any student who remains indebted to CMCC at the completion of Year IV.