---
Dr. Danny Myrtos
Campus Clinic
T 12 - 8, Th 12 - 8, S 10 - 4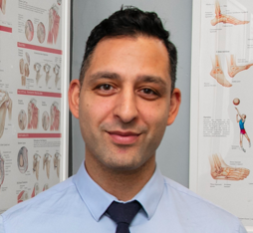 ---
Area of expertise:
Fellow of the Canadian Chiropractic Specialty College of Physical and Occupational Rehabilitation FCCPOR(C)
Practice management
SMT technique
Clinical decision making
Registered acupuncturist
Areas of interest:
Rehabilitation
Collaborative health care
Critical thinking and problem solving
Number of years in practice:
14 years
Techniques used
Diversified
Rehabilitation/exercise
Acupuncture
Soft-tissue therapy
"In what ways do you interact with other health professionals?"
I am a firm believer in a collaborative and multi-disciplinary approach to health care. I have worked in partnership with physicians, physiotherapists and massage therapists in private practice and have established a network of specialists including orthopaedic surgeons, radiologists and sport physicians that I interact with on a regular basis. Such communication facilitates a more effective and patient-centred approach that is integral in establishing the chiropractor's role within the healthcare system.