Simulation Lab
The Simulation Lab is home of a clinical skills diagnostic lab, a treatment skills development lab and a new, high technology audiovisual environment used to conduct history, physical and diagnostic exercises. First unveiled in 2010, the lab has since become an integral part of the educational resources at CMCC, and provides an unparalleled opportunity to enhance technique skills, aids in the development of emergency preparedness and fosters interprofessional educational opportunities.
The Simulation Lab is composed of the Clinical Skills Diagnostic Lab and the Treatment Skills Development Lab.
Clinical Skills Diagnostic Lab
As part of the Clinical Skills Diagnostic Lab CMCC has four Gaumard Manikins, programmed simulated patients, capable of demonstrating a range of conditions and responding to treatment. They are audio capable and have been set up by CMCC in such a way that student-manikin interactions can be recorded for appropriate feedback and future learning, using the METI Learning Space audiovisual system.
These simulated patients are currently used in a number of scenarios created to help students respond to various health-related situations, including emergencies such as cardiac arrest. CMCC is the first chiropractic program in North America to use and incorporate this technology into its curriculum.
Since the inception of this technology, CMCC graduates have reported life-saving interventions, many of which they have attributed in part to the preparation they received while working with the Manikins and the scenarios created for this purpose.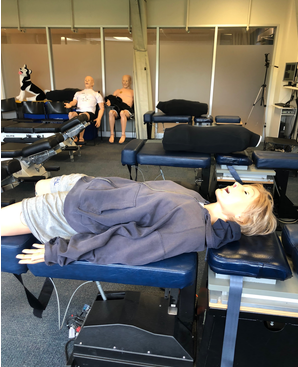 Treatment Skills Development Lab
Force Sensing Tables within the Treatment Skills Development Lab provide students with the ability to finely tune their manual treatment skills (including manipulation, adjusting, mobilization and massage) in a way that was previously impossible. The modified treatment tables, with internally embedded force plates, are capable of assessing several biomechanical parameters of manual manipulation to all spinal regions and extremities. Feedback, displayed in newtons, provides sensitive and precise measurements of force along the xyz axes, providing opportunities for further research through the scientific advancement of therapies. Learn more about Force Sensing Table Technology and its applications.
In 2011, Dr. David Starmer and team began to develop a foam Thoracic Adult Analog manikin on which students can practice manipulations and which can accurately mimic human tissue response to chiropractic manual manipulation. The current model has evolved to include a head, neck, shoulder, spine and pelvic girdle embedded within the foam, allowing it to even more closely represent human response. The models are used with Force-Sensing Table Technology to provide comprehensive feedback to users.
In 2013, a delayed video feedback system was added, allowing students to view their own manual manipulation procedures. Lab time in the Treatment Skills Development Lab was incorporated into the curriculum for Year I and Year II students in 2013. All other students and faculty are welcome to use the facility.
Ongoing research within this lab focusses on learning and learning retention.