Student Outcomes
CMCC is proud of the quality of its students and graduates, the reputation of its faculty and staff, and the innovative design of its curriculum. These qualities are reflected in the very high percentage of students who graduate and the ratio of those who enter active practice. In the most recent survey completed on behalf of the Government of Ontario, over 92.2% of CMCC graduates were employed within six months of graduation.
Furthermore, the CMCC default rate on government student loans falls below the provincial average, which is an indicator that graduates from the DC program are not only successfully engaged in practice, but also to the extent that allows them to meet their financial obligations.
There is an abundance of opportunity for chiropractors in health care today. Graduates are currently practising in 52 countries, most commonly in private practice as sole proprietors or as associates, However, an increase in the number of multidisciplinary health care facilities in Canada has led to new opportunities for health care professionals to collaborate in providing patient care. For instance, some chiropractors work in hospitals and other health care institutions, while others pursue graduate studies and research opportunities in related fields.
If you see your future in chiropractic, then CMCC is the place to be.
Contact Admissions
---
Program Completion and Licensing Exam Outcomes
Program Completion Rate
The Council on Chiropractic Education (CCE) requires all Doctor of Chiropractic degree programs to post annually the overall average of the two most recent year's completion rate, calculated at 150% of the normal completion time, for the Doctor of Chiropractic program. At CMCC, the normal time for completion of its program is four years.
ACADEMIC YEARS (4)

Column A

Column B

Column C

Column D

Column E

Entrance Term

# of Students Matriculated in Entrance Term

6 Years After Entrance Term

# Students in Column A That Graduated by Term in Column C

Completion Rate at the 150th Percentile

Summer 2015

197

Summer 2021

184

93.4%

Summer 2016

199

Summer 2022

189

95%

2-YR TOTAL

396

373

94.2%
CCEB Examination Performance
Almost all CMCC students will establish professional practice in Canada. All provinces require successful completion of licensing examinations administered by the Canadian Chiropractic Examining Board (CCEB). There are three examination components.Component A concentrates on basic sciences knowledge. Component B explores the candidate's ability to make decisions and diagnoses in a clinical context. Component C is a practical examination using standardized patients. CMCC receives aggregate student performance reports from the CCEB once per year.
The Council on Chiropractic Education (CCE) requires all Canadian Doctor of Chiropractic degree programs to post annually the overall weighted average of the four most recent years of CCEB Components A, B, and C exam success rates, for first-time test takers.
Four (4)
Most-Recent Years

CCEB Component

Number of First-Time Test-Takers from CMCC for Each Component

Number of First-Time Test-Takers from CMCC Passing Each Component

% of First-Time Test-Takers from CMCC
Pass Rate

2018-19

A

188

175

93%

B

192

181

94%

C

193

184

95%

2019-20

A

186

176

95%

B

174

172

99%

C

0*

N/A*

N/A*

2020-21

A

187

176

94%

B

200

191

96%

C

360

354

98%

2021-22

A

179

163

91%

B

179

173

97%

C

181

175

97%

TOTALS:

2219

2120

95%
The charts below show CCEB Exam Performance for CMCC students and for students from all chiropractic programs in North America.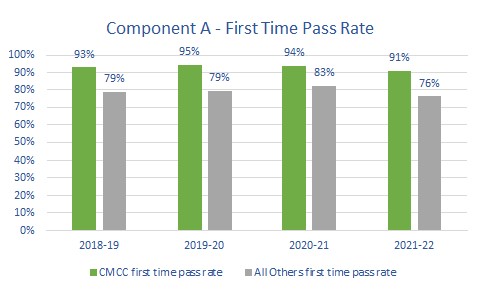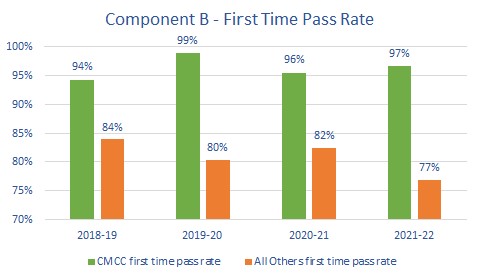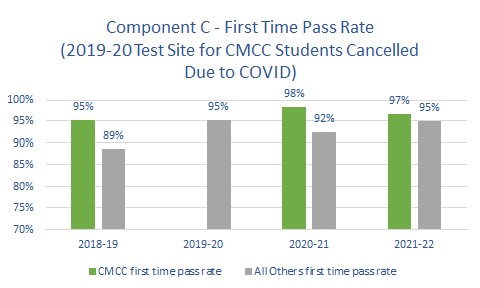 *Due to the health concerns related to COVID-19 and restrictions implemented in jurisdictions across Canada, the CCEB was forced to cancel the spring 2020 exam administration. Almost all CMCC students normally sit for the Component C exam in the spring, so no results are reported for 2019-20 CMCC students.
Student Loan Default Rate
The majority of CMCC students receive student loans to assist with tuition and other expenses over the four years of study. Indirectly, student loan default rates are a measure of program success. CMCC's Canada-Ontario Integrated Student Loan (COISL) default rates consistently remain well below the average for all institution types in Ontario, including other private institutions as demonstrated in the table below of default rates for the five most recent years of data reported by the Ontario Ministry of Colleges and Universities (MCU).
ON Universities

ON Colleges

ON

Private Career Colleges

ON

Other Private Institutions

CMCC

2020

2.7%

7.2%

7.4%

3.1%

0.0%

2019

3.0%

8.9%

11.7%

3.1%

0.0%

2018

2.8%

8.5%

11.7%

2.5%

0%

2017

3.0%

9.1%

14.5%

2.3%

0.4%

2016

3.3%

9.8%

16.4%

2.5%

0%